Donations instead of flowers
On the 50th birthday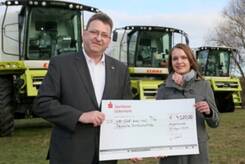 Birthdays frequently are occasions for very special gifts. But when Jochen Comolle celebrated his 50th birthday, there weren´t as much presents as usually. Instead of colourful packages, huge gift hampers and lots of flowers he got a pile of little envelopes.


The well-known entrepreneur wished for money – not for himself, but to help other people, who are confronted with a serious disease. Jochen Comolle asked his birthday guests for donations to support the Germain Brain Tumour Association.

Incredible 4520 euro could be raised and were presented from the jubilee himself to Julia Schwarzenberger, an employee of the Germain Brain Tumour Association. Both were overwhelmed by the generous donations of this private campaign. The business man Jochen Comolle traveled a lot and met many people who weren´t doing that well. "That changes the view on problems a lot and you realise, how fine we are doing.", he says full of gratitude. The feeling of helping others made him rich in his heart, Jochen Comolle tells, and he wanted to encourage others to do the same.

The idea for the jubilee donation evolved from personal concern. Jochen Comolle´s father died of a brain tumour in 1995 and that´s why the jubilee knows all the needs and worries of the people affected. "I wanted to be reminiscent of him and at the same time help other people concerned, whose happiness is threatened by this serious disease, with the donations. This seems much more important to me than getting gift hampers and flowers", he tells.

For the German Brain Tumour Association and its activity for brain tumour patients, actions like this are very important, though they are not commonplace. Every jubilee donation helps realising very important projects and improving the situation of brain tumour patients.