Survivor Stories
Ein Teil von mir
"Ich arbeite nicht gegen
meinen Körper." Johanna
erzählt vom Leben mit der
Diagnose Glioblastom.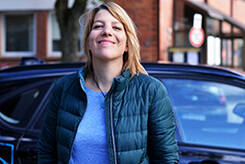 Und wenn ich 90 werde...
Kathi ist an einem Tumor vom
Typ Glioblastom erkrankt. Sie
hat aber keine Lust, sich die
Lebensfreude rauben zu lassen.
Lesen Sie weitere Erfahrungsberichte junger Hirntumorpatienten in unserer Brainstorm-Sonderausgabe. Das Magazin ist hier kostenfrei bestellbar.
Surviver Stories of Patients
On this page we publish reports of brain tumour patients from the magazine "brainstorm". They describe their experiences, their feelings and thoughts to help others that are faced with the same or a similar situation. The articles are available as pdf-file. You can view and print them with the free "Acrobat Reader".

Please note that our forum is currently only available in German language.

Elisabeth, 34 years (2010) astrocytoma II dx 03.01, glioblastoma dx 01.05 [PDF]
Juliane, 34 years (2010) medulloblastoma, dx 02.06 [PDF]
Jochen, astrocytoma II, dx 03.07 [PDF]
Eric, 37 years (2007), glioblastoma, dx 12.04 [PDF]
Peter, 49 years (2007), glioblastoma, dx 09.03 [PDF]
Heike, 39 years (2006), glioblastoma, dx 06.04 [PDF]
Mirka, 35 yeasrs (2006), glioblastoma, dx 04.01 [PDF]
Filipe, 20 years (2005), germinoma, dx 2000 [PDF]
Nancy, 22 years (2004), ependymoma III, dx 02.04 [PDF]
Michael H., 39 (2003); A II dx 11.98, AA III dx 01.01, GBM dx 09.03 [PDF]
Michael M., 33 (2002); astrocytoma II dx 12.98, OA III dx 03.01 [PDF]
Marlene, (2002); glioblastoma, dx 12.95 [PDF]

Please sent your experience report to our editorial staff via e-mail:
brainstorm@hirntumorhilfe.de